Sorbaderm No-Sting Barrier Film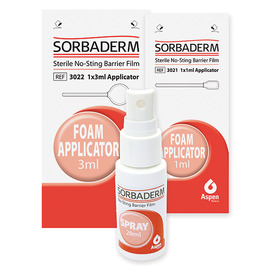 Description
A polymeric solution which forms a uniform film when applied to the skin. It is a non stinging solvent, transparent and vapour permeable.
Indications
It is intended for external use as a film forming product that upon application to intact or damaged skin forms a long lasting waterproof barrier. Acts as a protective interface between skin and bodily fluids, adhesive products and friction.
Contraindications
Not to be used on infected skin.
Preparations Available
Protective film
Sizes Available
Spray – 28ml
Foam applicator (pack of 5) – 1ml, 3ml
Price
Spray: £5.39.
Foam applicator:£4.00 – 1ml, £6.48 – 3ml
More on: Adjuvant treatments , Barrier preparations