Debrisoft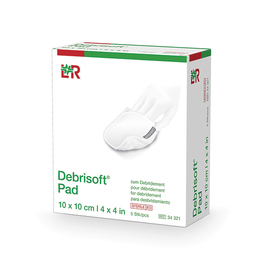 Description
Debridement pad made from polyester, using patented Monofilament Fibre Technology.
Indications
For removal of superficial slough and debris including biofilm from wounds and skin during wound bed preparation. The soft fibres, which gently lift, bind and remove debris, are cut at a special length and angle to reach all uneven areas of the skin or wound bed. Debrisoft can be used to aid wound or skin assessment and to remove slough and debris (including biofilm) at dressing change. Suitable for chronic wounds such as leg ulcers, diabetic ulcers and pressure ulcers; acute wounds such as lacerations, cuts and abrasions, and superficial epidermal and partial-thickness burns.
Contraindications
If very stubborn slough or hard necrosis is present, treatment by autolytic debridement using dressings before treatment is advised.
Preparations Available
Physical debridement pad
Sizes Available
10x10cm; 13x20cm
Price
£6.61; £16.38 (per pad)
More on: Adjuvant treatments , Physical debridement pads